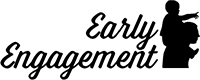 Where Dads Matter
A non-profit inspired by great teachers.
About Ben
Ben Swett is a dad, and an early childhood advocate, consultant and teacher. Ben serves as the Executive Director of Early Engagement a non-profit dedicated to supporting children 0-3 by coaching their adults. Ben is an experienced teacher who's proud to have studied RIE with Elizabeth Memel and have a graduate degree from the U of Chicago. This is his "third career" after tours as a big company product manager and a small company CEO. The rest of his life is dedicated to activating the latent power of dads to grow the kids we need to save humanity.
We Respect Your Time! We assembled the best advice from experts, teachers and researchers, put it together into an effective simple program that will prepare you for your journey – and give you habits that will give your child lifelong Mental Game, and help protect them from the mental health challenges that almost all children face.
In evaluations, over 96% of Dads rated our program as both "very helpful" and "very worthwhile."
The Mission
Early Engagement is a nonprofit that helps children 0-3 develop lifelong mental skills by coaching adult caregivers, particularly fathers. Thinking, feeling and people skills are not "taught" – they are learned before age 3 from the child's environment, which is dominated by adult communication habits. We work through parenting classes, coaching programs, media products, and advocacy – to give young children the mental tools that bring success in school, at work, and in relationships.
Early Engagement starts from the simple truth that all parents want to do what's best for their children. The educators, scientists and policy people behind Early Engagement recognize that a small investment in caregiver's habits can have an extraordinary lifelong positive impact in the "Mental Wealth" areas of confidence, self-knowledge, resilience, persistence, focus, curiosity, and social skills, among others. Our Strong Start™ coaching sessions, starting with a Dads-only prenatal class, are constantly being improved, as we build out our system out for large-scale positive impact. Please get in touch – please join us in working together – for the future.
It was almost all new to me – I wish I'd done it sooner
An Excellent use of time – I learned stuff I use every day.
No questions, just wanted to use this space to say "thank you"…This program benefits me in many ways…Bigger picture though, it helps me with my overall mood and demeanor and just helps me be a dad in my own way.